Evan Eldridge never meant to be a war hero–he just wanted to fight Napoleon for the future of his country. And he certainly didn't think that saving the life of a peer would mean being made the Earl of Whitelock. But when the life you save is dear to the Prince Regent, things can change in a hurry. Now Evan has a new title, a manor house in shambles, and a stranger for a bride, all thrust upon him by a grateful ruler. What he doesn't have are all his memories. Traumatized as a result of his wounds and bravery on the battlefield, Evan knows there's something he can't quite remember. It's important, dangerous–and if he doesn't recall it in time, will jeopardize not only his marriage but someone's very life.
Readers who enjoy Julie Klassen, Carolyn Miller, and Kristi Ann Hunter will love diving into this brand-new Regency series filled with suspense, aristocratic struggles, and a firm foundation of faith.
He's doing what he can to save the Prince Regent's life . . . but can he save his new marriage as well?
Erica Vetsch is a New York Times best-selling and ACFW Carol Award–winning author. She is a transplanted Kansan now living in Minnesota with her husband, who she claims is both her total opposite and soul mate.
Vetsch loves Jesus, history, romance, and sports. When she's not writing fiction, she's planning her next trip to a history museum and cheering on her Kansas Jayhawks and New Zealand All Blacks.
A self-described history geek, she has been planning her first research trip to England.
Learn more about Erica Vetsch and her books at www.ericavetsch.com. She can also be found on Facebook (@EricaVetschAuthor), Twitter (@EricaVetsch), Instagram (@EricaVetsch) and Pinterest (Erica Vetsch).
You can find Erica on Social Media at the following links:Facebook (@EricaVetschAuthor)
Twitter (@EricaVetsch)
Instagram (@EricaVetsch)
Pinterest (Erica Vetsch)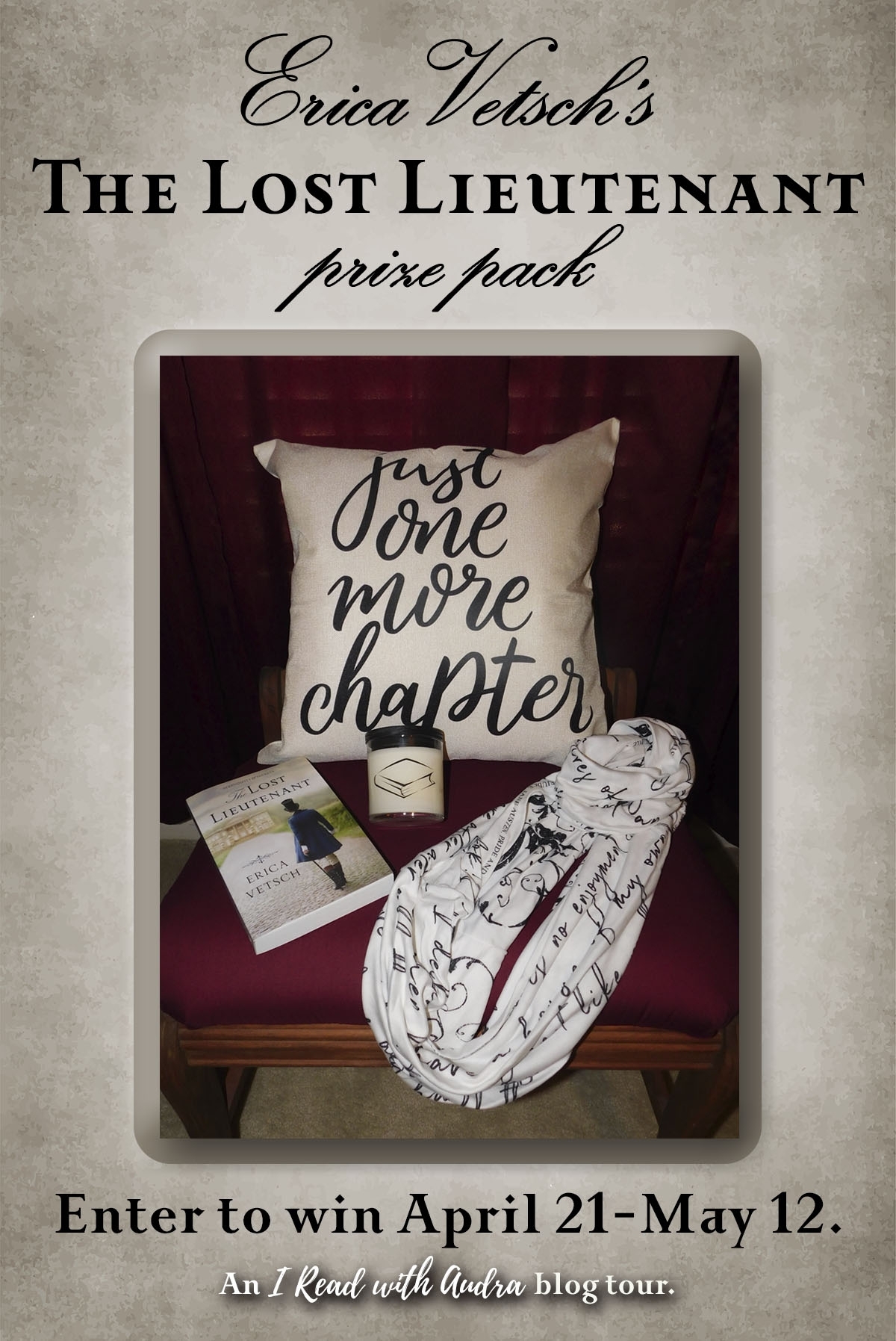 – A copy of Erica Vetsch's The Lost Lieutenant
– A Jane Austen's Pride and Prejudice scarf
– A "Just One More Page" 12×12 pillow
– A "Between the Pages" book inspired candle
All you have to do to enter is to fill out your name and email address, but there are lots of ways to earn BONUS entries. It's completely up to you how many you want to do. You can even do a daily Tweet!  Click here for the form you need to fill out to enter this giveaway.
I am an avid reader, and I love books of all time periods.  So I was excited to have the opportunity to review this book.  Diana has been groomed her entire life to be a true "lady of the manor", while Evan as a commoner who happened to save the godson of the Prince Regent – who just happens to also be Diana's step-brother.
When the Prince Regent declares the two must marry, Diana and Evan have no choice but to follow his directives.  But both of them also have secrets they keep from each other.  After giving Evan a title and a crumbling home, the Prince Regent ensures the two marry and carry out his plans to revive the property.
Diana is willing to do whatever it takes to protect her nephew from her father.  Evan knows he has forgotten something he needs to remember.  In the process of renovations, the two realize they can not keep secrets from each other if they want to experience true happiness.  They need to trust each other and work together to keep Diana's nephew safe and help Evan rediscover his lost memories.
I think the Prince Regent is the perfect meddling grandfather-like figure.  I also adored meeting Evan's parents.  I just wish I could have gotten to know them better.
So if you like Regency period novels that deal with nobility, check out this book for yourself.
I received a copy of this book for my fair and honest review.